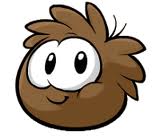 Choco is the brown memeber of the Puffle League. He is their tech and computer guru. They always come to him when something mechanical related is wrong. He has a crush on Popsicle and doesn't like her being all the time with Pixie, as he fears Pixie will not allow Choco to have a proper relationship with Popsicle.
Personality
He is very smart and intelligent. He is Hawaii's second in command. He thinks that Jake and Oscar's fighting over Tawny is silly and childish. He is smart well beyond his years. He is one of the two puffles in the Puffle League to have a sibling.
Trivia
He's one of the two puffles in the Puffle League who has a brother/sister, the other one being Pixie.
Both he and his sister have chocolate related names.
Choco Gallery
Ad blocker interference detected!
Wikia is a free-to-use site that makes money from advertising. We have a modified experience for viewers using ad blockers

Wikia is not accessible if you've made further modifications. Remove the custom ad blocker rule(s) and the page will load as expected.