Larry K. is the yellow member of the Puffle League. He is very artsy and creative. If he is not allowed to unleash his creativity he goes kinda bonkers. Larry is also bold and likes to be in front of the group, much to Jake's and Pixie's annoyance. 
Personality
Edit
Larry loves to paint on just about anything. Even other puffles. He is kinda dramatic and loves to act out his favorite plays.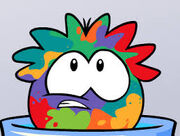 Larry K's Gallery
Edit
Ad blocker interference detected!
Wikia is a free-to-use site that makes money from advertising. We have a modified experience for viewers using ad blockers

Wikia is not accessible if you've made further modifications. Remove the custom ad blocker rule(s) and the page will load as expected.